Prisoners
As a human rights defender or journalist you might be aware of your risk to be arrested. And yet, preparing for prison might feel irritating. How could you ever prepare for this? You can … by building your resilience, by establishing empowering practices of wellbeing in your everyday life.
And maybe you are not a human rights defender, but happen to be detained unjustly, unlawfully for offences, which you did not commit, or which should be everybody's human right?
So, all too often imprisonment is not anythiny you had time to prepare for. Your partners, your lawyers or friends still might have the opportunity to pass on ideas on how to cope with the situation you are in.
The following collection of practices of well-being, survival and coping in prison tell a range of stories and experiences. Feel free to take up, adjust, or dismiss them for your own context and use.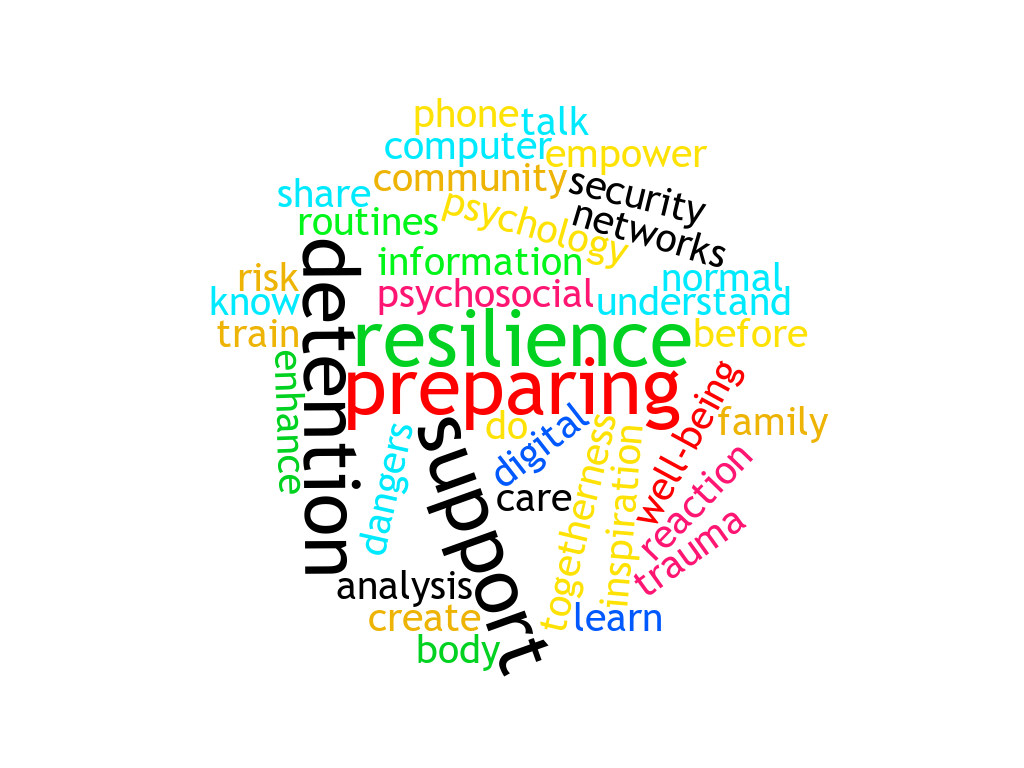 PREPARING FOR DETENTION
Inspiration for what to do before ...
Read More
Routines of well-being
Creating caring and empowering regular practices
Read More
Knowing a little bit of psychology
Stress and trauma are natural reaction to unnormal situations
Read More
Create support networks
Who will do what, if you get detained
Read More
Preparing the family
Enhancing the resilience of your next ones
Read More
Understanding the dangers
Risk analysis
Read More
Prepare your digital devices
Decide, what your phone and computer can share without your consent
Read More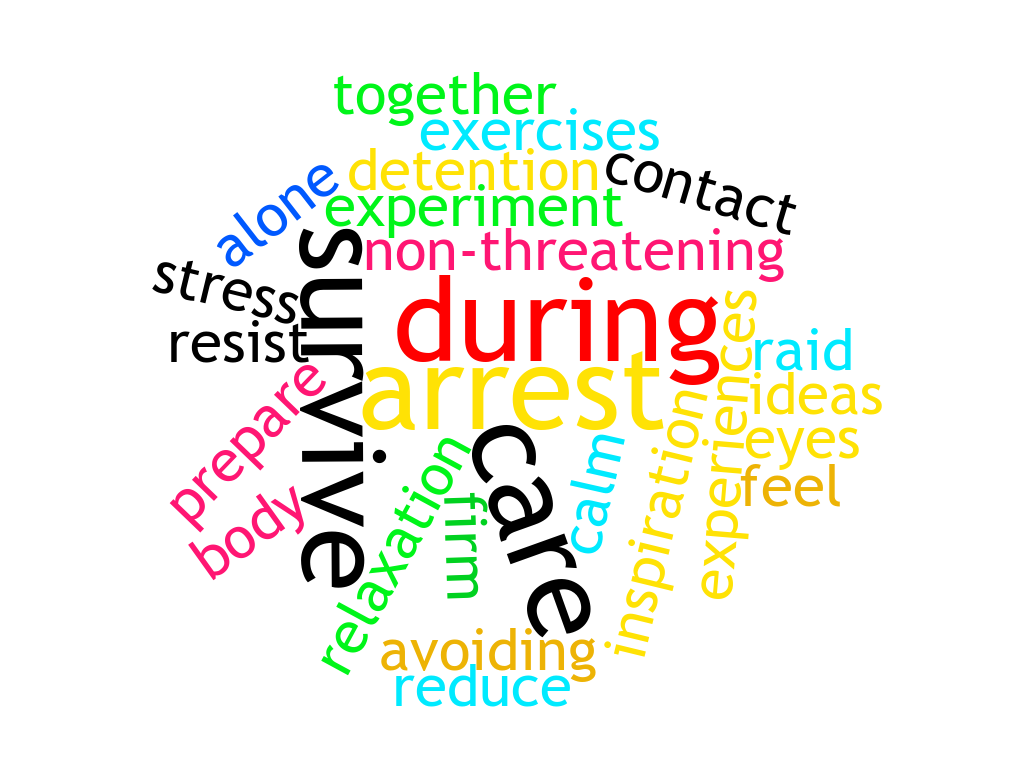 DURING DETENTION OR ARREST
How to survive and care?
Read More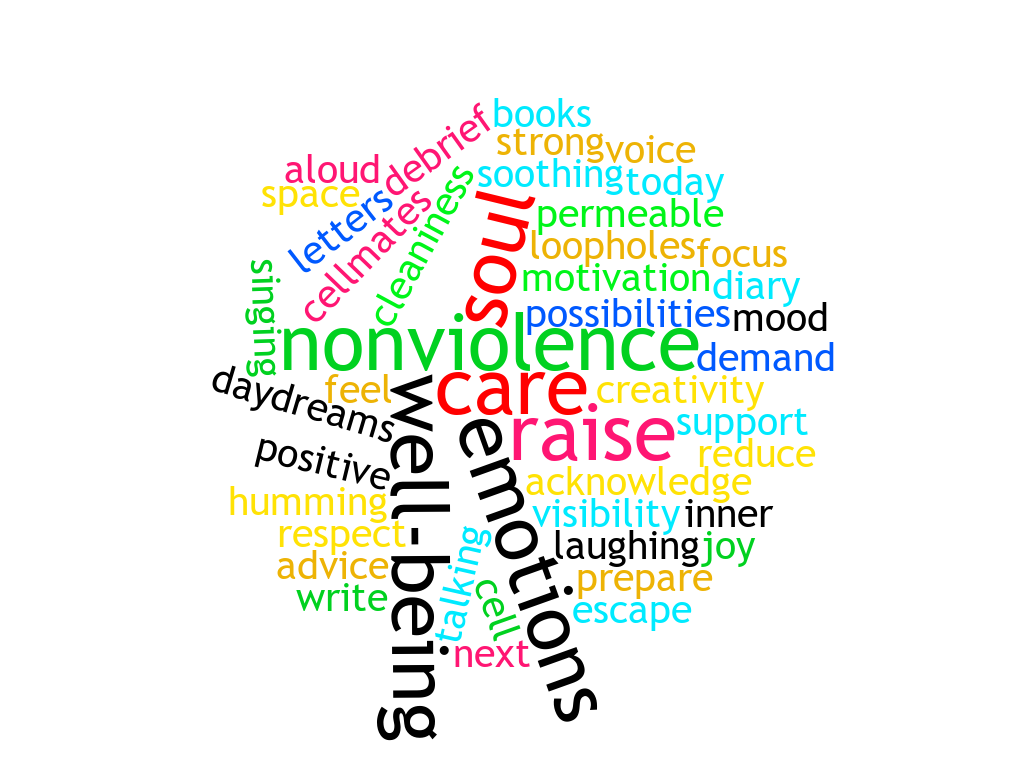 TAKE CARE OF YOUR SOUL
Inspiration for how to care for your inside
Read More
Feeling strong
Respecting and demanding respect
Read More
They feel threatened, too
Nonviolent approach towards guards and officers
Read More
Inner step back
When guards enter your cell
Read More
Don't look down!
Little steps of raising our moods
Read More
One day at a time
Also long weeks, months, years are made of next days
Read More
Check for loopholes
Prison and legal systems are permeable
Read More
Writing diary
Creating space for reflection
Read More
Laughing is key
Positive emotions despite all odds
Read More
Books
Escaping the reality of detention
Read More
Care for your cell
Your spaces in the space which is not yours
Read More
Singing and humming
Comforting melodies
Read More
Singing in the yard
Hearing your own loud voice
Read More
Talk about it
Debriefing with inmates
Read More
Feeling togetherness
Meeting routines over distance
Read More
(Un-)Emotional times
Creating space for feelings
Read More
Enjoy!?!
Allowing yourself positive feelings
Read More
Soothing mechanisms
Stopping bad thoughts
Read More
Daydreams are soulfood
Getting your mind out of prison
Read More
Supporting others ...
... can support yourself
Read More
Acknowledging feelings
Not punishing ourselves
Read More
Creativity!
Creating your own visibility
Read More
Prepare for the unexpected
Reduce your stress
Read More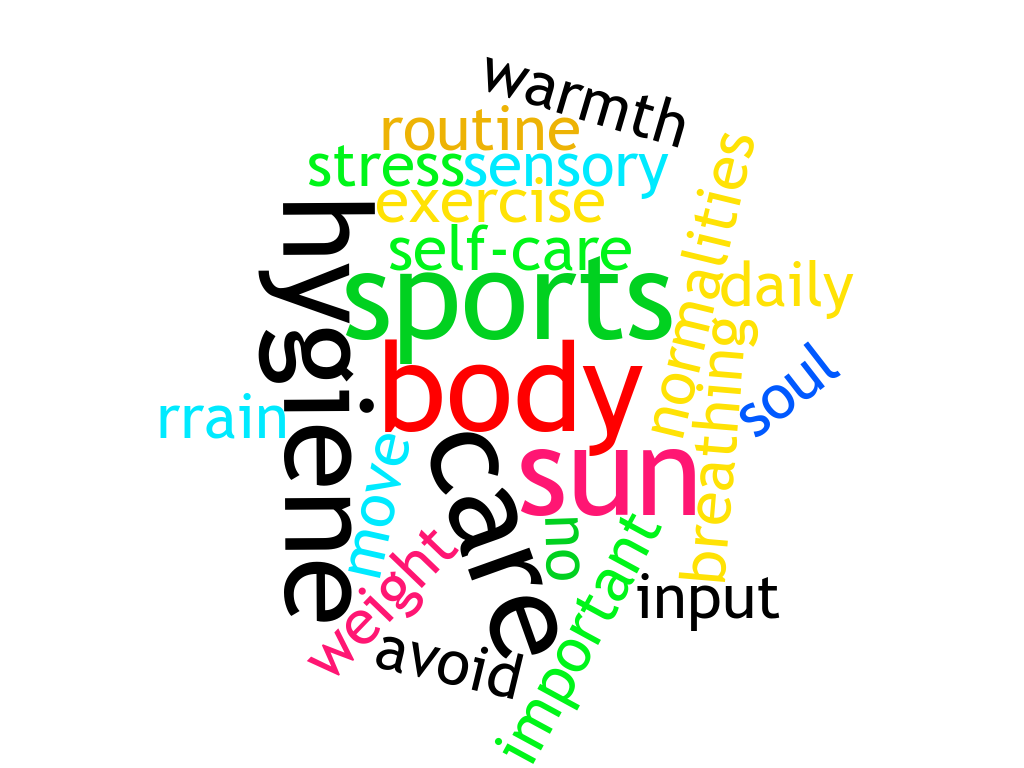 TAKE CARE OF YOUR BODY
Inspiration for how to care for your outside
Read More
Losing weight and energy
Normalities of extreme stress
Read More
Breathing exercises
From your body to your soul
Read More
Feeding our senses
Providing our own sensory input
Read More
Catch the sun
Light and warmth
Read More
Sports - Sports - Sports
Finding the balance
Read More
The tiger in the cage
The danger of hospitalism
Read More
Hygiene
Avoid getting sick
Read More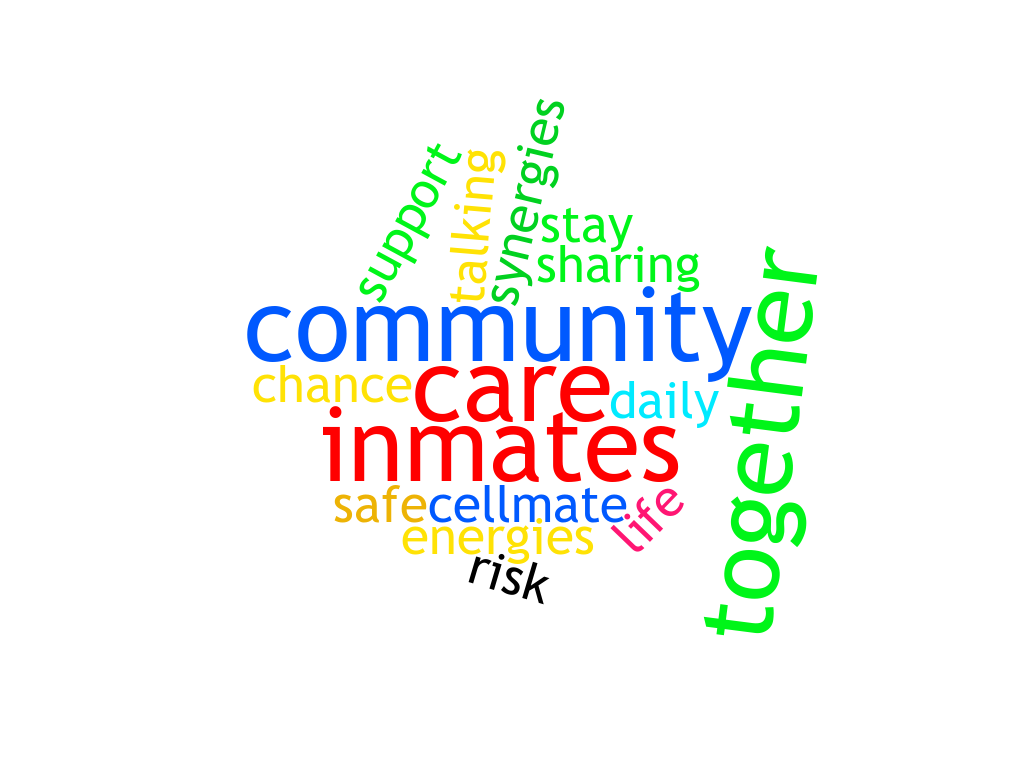 TAKE CARE OF YOUR INMATES
Inspiration for how to care for your inmates surrounding you
Read More
Choosing your inmates
Importance of staying with trusted inmates
Read More
Stay safe
What to tell your cellmates
Read More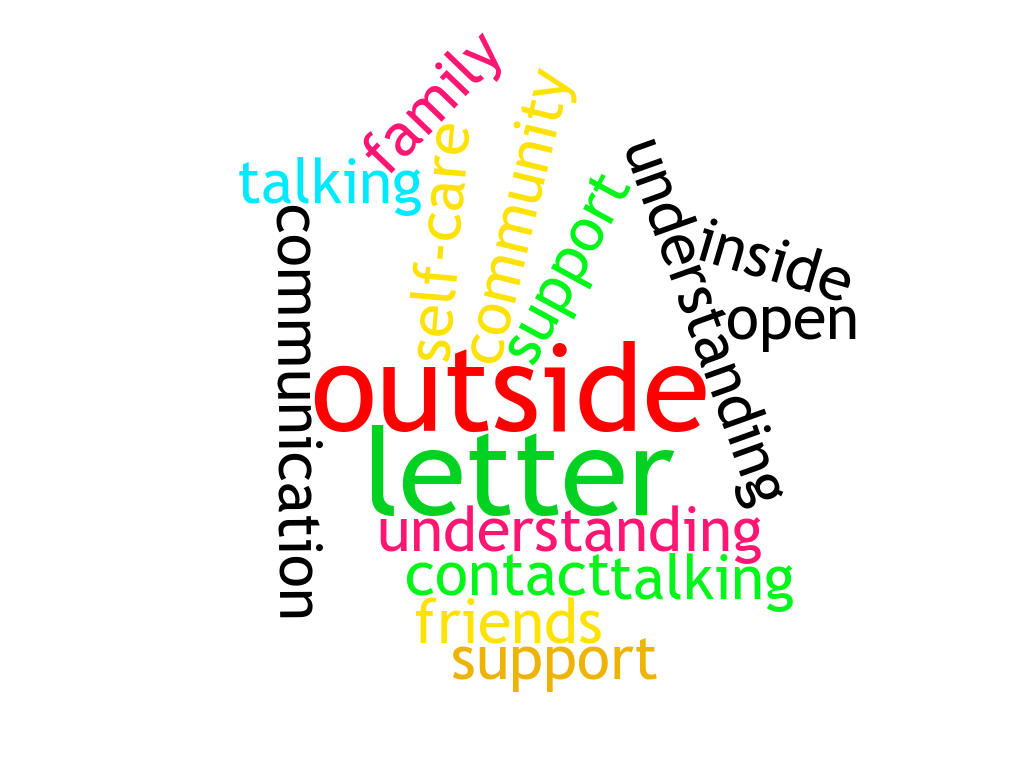 TAKE CARE OF THE ONES OUTSIDE
Inspiration for how to care for your family, friends and supporters
Read More
Taking care of them outside ...
... means taking care of yourself inside
Read More
Talking with family afterwards
Understanding what happened inside
Read More
Open letters
Telling your story outside
Read More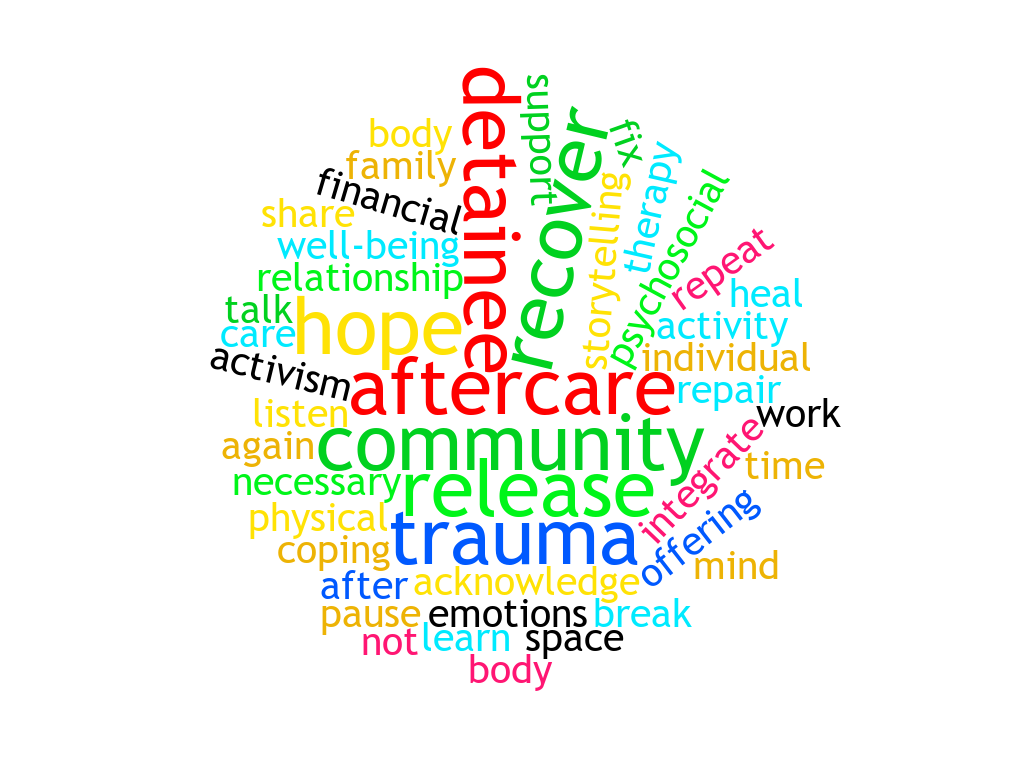 AFTER-CARE
Inspiration for what to do after the release
Read More
Good things to continue: Well-being routines
Outside life is exhausting too
Read More
top ^