Lawyers
Being the lawyer of a human rights' activist who is imprisoned puts you in a complex position. You are not only representing the human rights' defender in political terms but take up multiple jobs: you communicate with family and possibly politics, you might be involved in organizing daily necessities, you might be confronted with media, and much more.
In this section, lawyers who have already dealt with such situations have documented their experiences. They share their insights and best practices and offer them to the readers and colleagues. All notes have their own background and history. And yet, they hopefully bring inspiration and ideas to you – on how to adjust them to your specific needs and circumstances.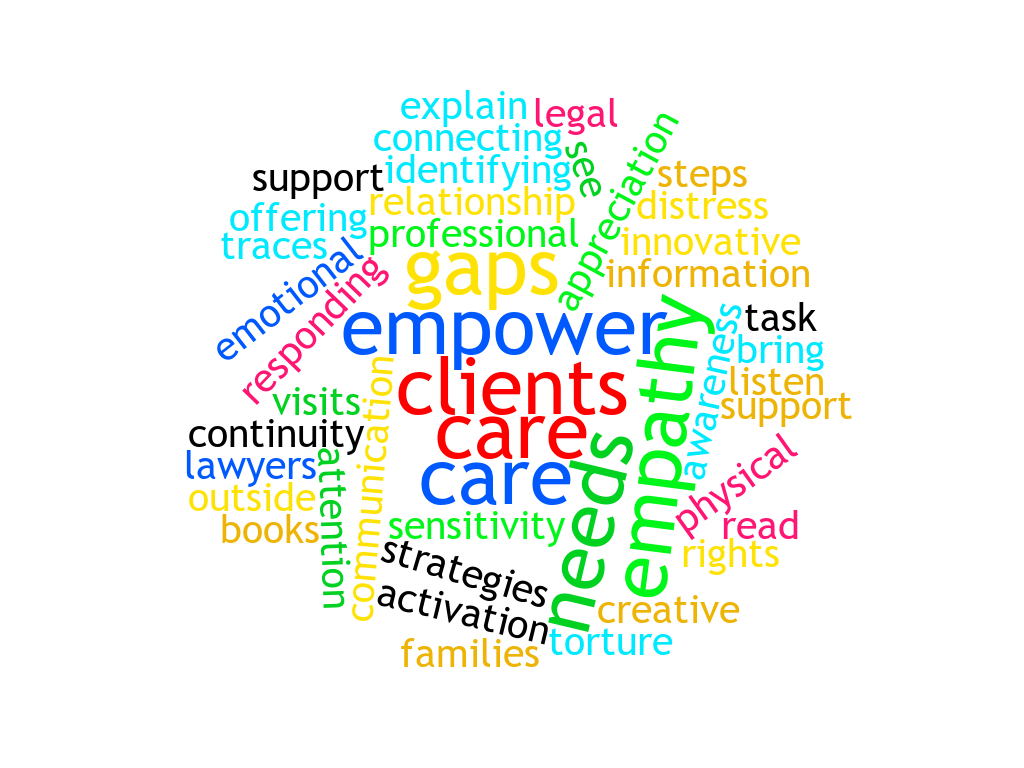 CARING FOR CLIENTS
Responding to the needs of detainees
Read More
Appreciation
Lawyers can help detainees not losing themselves
Read More
Emotional and physical distress of the detainee
Understanding the stress of the client, identifying traces of torture
Read More
Constant check for the needs of the detainees
Monitoring the well-being of our clients to empower them.
Read More
Visiting Strategies
Regular visits as first response
Read More
Empowerment and support
Objectives of the visits
Read More
What to bring for the detainee
Transfer of books and more
Read More
Activating the detainees
Empowerment through shared tasks
Read More
Public and open letters
Creating attention and visibility
Read More
Connecting detainees to the outside
Establish contact between the clients and their families and friends
Read More
Innovative ways of support
Strategies for looking for gaps in the system
Read More
Establishing personal work relations
Building empathy and care
Read More
Determine the legal strategy
From the arrest warrant to the next steps
Read More
Communication with Police and Guards
Polite but clearly enforcing one's rights
Read More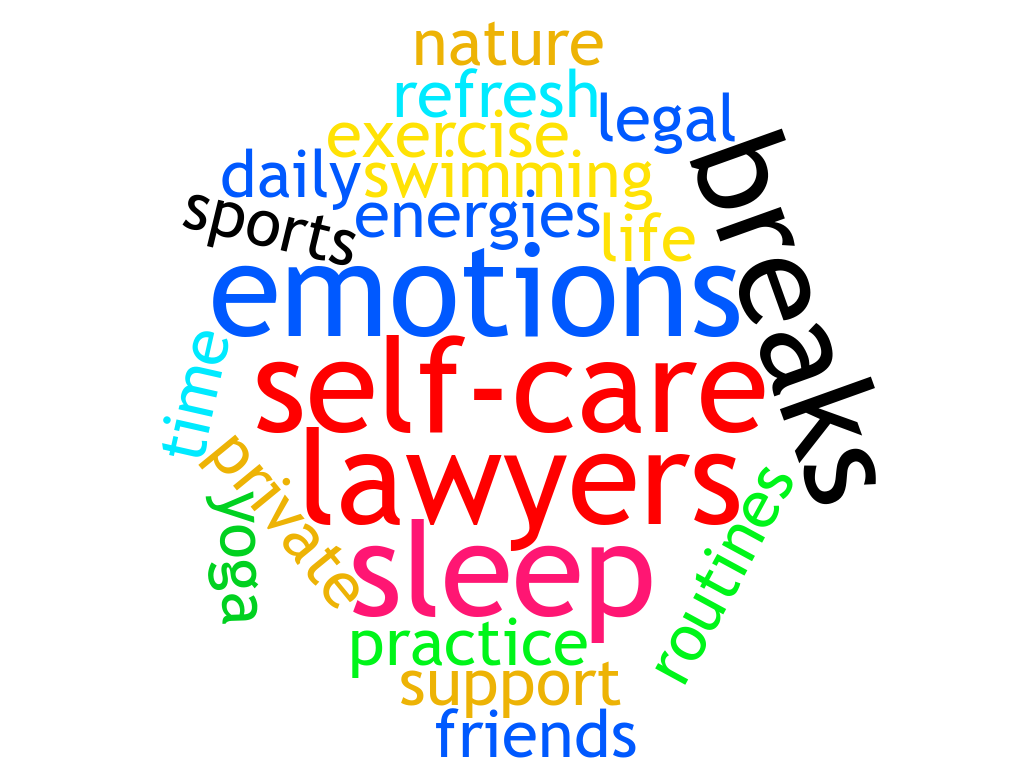 SELF-CARE FOR LAWYERS
Caring for your own needs
Read More
Breaks. Breaks. Breaks.
Essentials for staying fresh
Read More
Justice first
Motivation despite non-functional legal systems
Read More
Fleeing into nature
Dealing with own emotions
Read More
Sports as part of self-care
Between swimming and yoga, theory and reality
Read More
Before you sleep
Removing the thoughts of work
Read More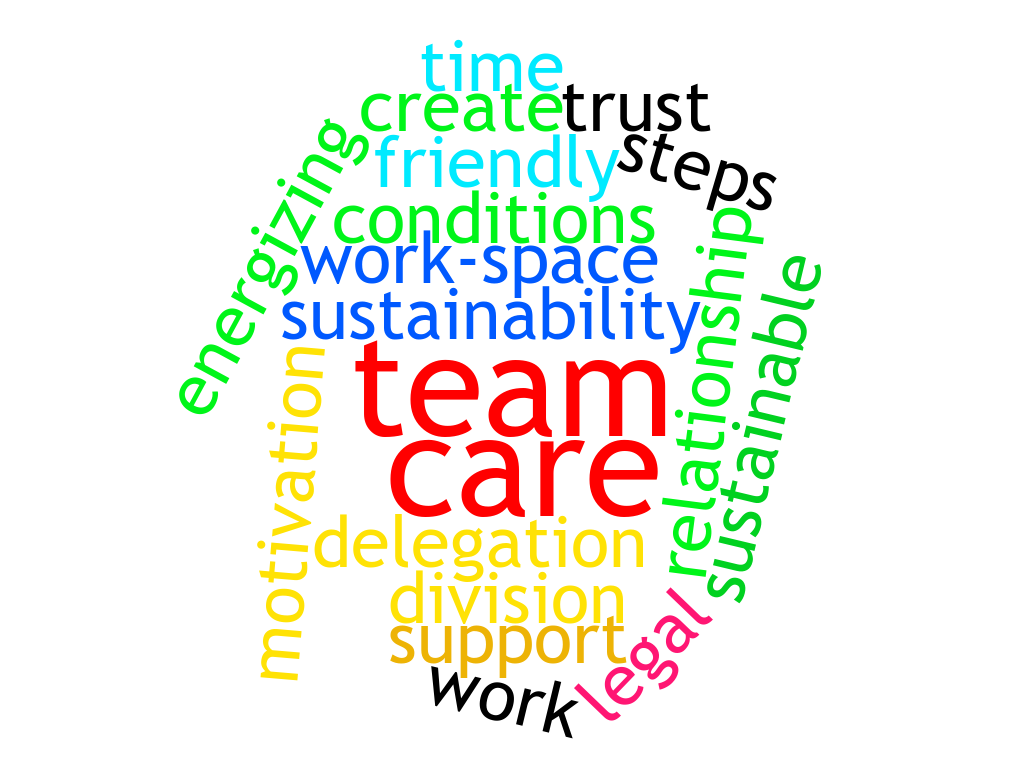 CARE FOR YOUR TEAM
Creating sustainability within your legal team
Read More
Team work
Advantages of working in legal teams
Read More
Work division and delegation
First team steps
Read More
Friendly work space
Creating energizing working conditions
Read More
Time management
Caring for our energies
Read More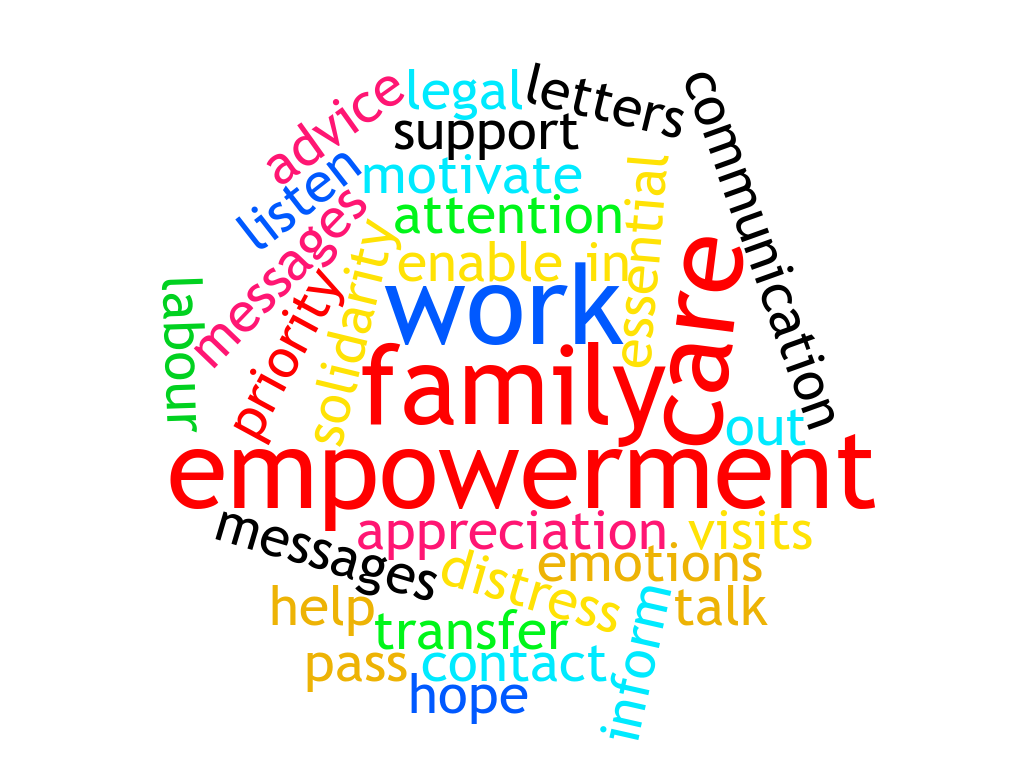 WORKING WITH THE FAMILY OF THE DETAINEE
Caring and communicating with families of your clients
Read More
Family contact is essential
Enabling uninterrupted family solidarity
Read More
First information to family
Who to inform after the first visit to the detainee
Read More
Family visits in prison
Motivate to care in distress
Read More
Families: Don't lose hope!
Empowerment and self-care for the families
Read More
Appreciation
Family members felt cared for
Read More
Family communication
Transfer of letters and messages
Read More
Mutual engagement
Sharing work ethics and attitudes
Read More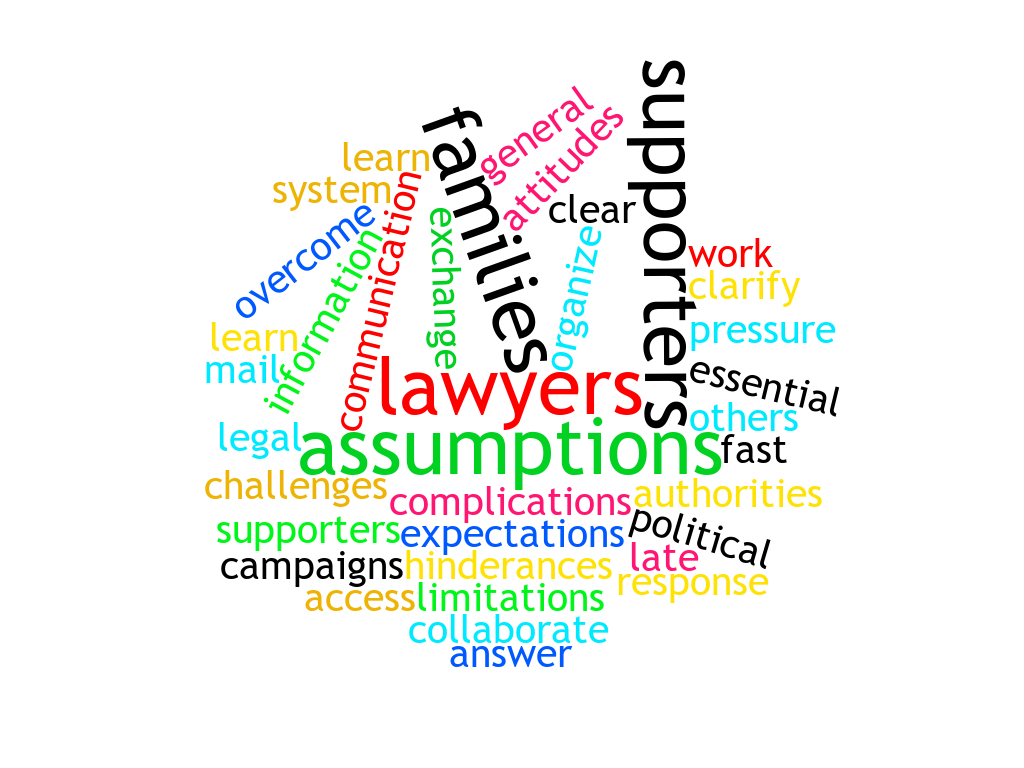 WHAT TO COMMUNICATE ABOUT YOUR WORK
What your clients, their families and supporters should know about your work.
Read More
Our pressures
Why we sometimes respond late ...
Read More
Our Challenges
What is complicating our work?
Read More
Hinderances
What keeps us from telling all this
Read More
Access to general legal information
Chances and limitations of self-informed families and supporters
Read More
Fast and correct responses needed
What challenges us sometimes: Difficult collaboration
Read More
Supportive campaigns
Pressurizing the authorities
Read More
top ^